At Thumbs Up Window Tint we take pride in every job we do. With our extensive knowledge in window film installation coupled with some of the major window film manufacturer's in the industry, rest assure your car, home or office will have some of the best window film and workmanship available in San Antonio, Texas.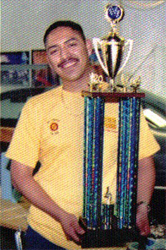 Over the years we have competed in several window tint competitions nationwide and have placed in the top 3 in 4 out of the 5 times we have competed. We actually won it all in 2004 at Sunbelt's 15th Annual tint-off professional competition held in Houston, Tx. We compete not only to test our skills on a nationwide level but to show our customers we're among the best nationwide.



Thumbs Up Window Tint is founded by one entrepenuer looking to introduce professionalism and quality of installation to San Antonio, Texas and surronding areas. Our business hours are Mon - Fri from 9 a.m. to 6 p.m. and Sat from 9 a.m. to 3 p.m.
Please feel free to browse our entire site. You'll be sure to find what you are looking for. If not, give us a call and we'll talk pricing, at 210-680-2451.
Click on the "Talk Now" button to contact us immediately via telephone or click on the "Live Help" button to chat with our online receptionist. Our receptionist is standing by Monday to Friday from 9 AM to 8 PM (EST).